If you're a homeowner, gardener, or DIYer looking to get into the world of chainsaws without emptying your wallet on a gas-powered beast, the BLACK+DECKER 40V (LCS1240) is right for you.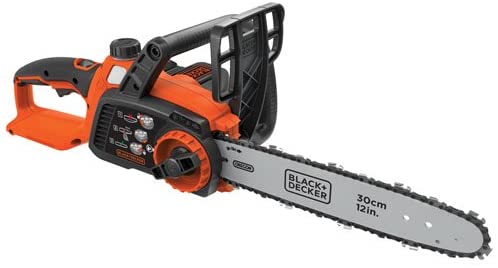 The BLACK+DECKER LCS1240 is and has been one of if not the best selling cordless chainsaw on the market. Why? because its affordable, dependable, and easy to use. It's more than capable for the average person's needs.
Lithium Ion Battery
If you're reading this you probably already own a power drill, and are familier with the power and reliability Lithium Ion Batteries have to offer. The battery lasts for about one hour of continuous use. While gas-powered chainsaws are more powerful, battery-powered chainsaws are not lacking in strength. The ease in charging a battery compared to mixing 2-cycle fuel more than compensates for any loss in power. This also makes it significantly easier to maintain compared to gas models if motor issues were to arise. Unless you're cutting down 50-foot trees with some serious girth, you have no need for a gas-powered chainsaw. After all, there is zero point in spending money on power you'll never use. If you never plan on topping 75 down a highway, why buy a muscle car.
Practical and Capable
As mentioned earlier, only pros or ranchers have a true need for a gas-powered chainsaw. The BLACK+DECKER 40V will fulfill the needs of everyone else, not to mention its more practical. Its safer and quieter than any gas chainsaw out there, making it more user friendly. Plus it starts with the push of a button, so no annoying pull-cords. The battery system is simple and expandable, so if you want a longer running time just get another battery. Additionally, the LCS1240 is ideal for limbing, and it's also great for small to medium jobs. It can cut down trees up to 10-inches in diameter effortlessly. It's also great for cutting treated lumber and even firewood. BLACK+DECKER claims it can make 60 cuts into 4×4 pressure-treated lumber on a single charge. So it will more than fit the needs of the average homeowner.
Tool-free Chain Tension Adjustments
A chainsaw is not the type of tool to mess around with, and the most dangerous thing on a chainsaw is a loose chain. A loose chain will cause the chainsaw to bounce and bind much worse than with a tight chain. a loose chain can even snap off and go flying at bystanders. The BLACK+DECKER 40V makes it easy to ensure proper chain tension with a simple tool-free system. So even complete novices can easily keep themselves safe.
Automatic Oiling System
The BLACK+DECKER LCS1240 also uses an automatic oiling system so you won't need to manually lubricate your bar and chain, simply fill the reservoir with oil and it does the work for you.
Lightweight and Ergonomic
The BLACK+DECKER 40V weighs in at 8.3 lbs. making it easy to handle and hold in awkward spots. It also features a full wraparound handle so you can angle it sideways and still maintain a good grip. The 12-inch blade also makes it more compact and portable compared to larger chainsaws
Pros
Affordable
Easy to use and maintain
Practical weight and size
Battery powered
Perfect for everyday jobs
Novice Friendly
Cons
Limited Capability
Battery does run out
Shorter bar not ideal for large jobs
Not suitable for professional work
Summary
If you're not a professional logger looking for a simple and dependable tool for everyday tasks, this 12-inch battery-powered chainsaw is the one for you. It's perfect for any small scale project and usable for almost anyone. The easy to use features, lightweight construction, and quiet power make this the practical choice for the average Joe.